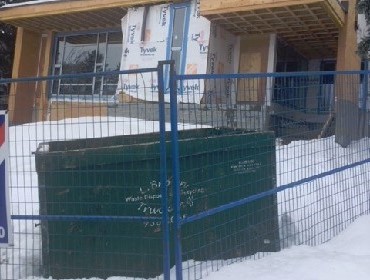 4 Cubic Yard Bins
-placed and emptied on site
-strategically placed with a crane that has 40 ft of extension to meet your needs and allowing easy access on job sites
-bins can be placed over a fence or on a driveway or the grass without damaging the ground or cement
-no need to have heavy trucks driving over curbs or sidewalks
-with bins dumped on site you are never without your bin
-due to constuction of bins and dumping system we cannot accepted bricks, rock, concrete, dirt, sod, or a full bin of shingles in these bins
16 – 40 Yard Roll Off Bins
-great for commercial use but can also be placed on the street or driveways for renovations or cleanups.Great for Condo projects, Larger commercial sites, Row housing construction, Acreage or farm site construction, Large demolition projects
CLICK HERE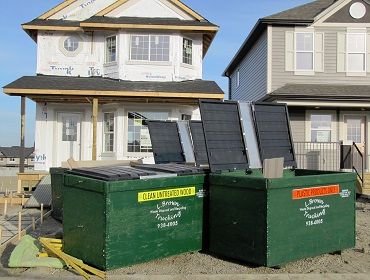 Recycling
We offer a wide range of recycling disposal consisting of Untreated Wood, Cardboard, Drywall and Shingles. All of these products are put in separate bins with lockable lids to minimize contamination. Shingles are only recycled in our Roll off bins. All of these products are disposed of at certified recyclers with recorded volume tracking.
With our Unique trucks we are able to provide various options in disposing of recycled products to maximize efficiencies and minimize costs.

CLICK HERE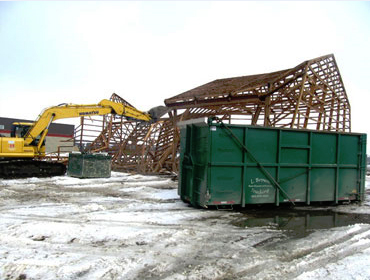 DEMOLITION
Estimates are given for all demolition jobs. After the required permits have been issued we will move the required equipment in to demolish the structure. All waste will be loaded out and disposed of at local landfill sites that accept demolition waste. Upon completion of waste removal the ground will be cleaned up and any holes backfilled and graded to a safety regulation worksite, leaving you with a complete worry free job..
CLICK HERE